Plot: The level 9 witch exam is almost here, and while Aiko and Hazuki are sure to pass with their extensive training, Doremi's lack of practice is putting Majorika on edge. She has one more day of practice, but her mother sends her out to watch Pop as she tries to make a trip to grandma's by herself. Doremi stealthily tries to help her by using magic, but she needs to ensure she saves at least one magic sphere for the exam. Will Doremi be able to pass and get her fairy, or will her lack of practice come back to haunt her?
——————————————-
As normal, the opening little scene is completely removed. It's just Doremi upset over how she won't be an ojamajo anymore.
Aiko just says the typical magic words in the first main shot and finishes by calling for tailless taiyaki. In the dub, I honestly tried to hear what she was saying but I couldn't make out half of it. I think she said "Don't care if it's snapper, don't care if it's trout, this cake without a tail come on out!" Kinda surprised 4Kids didn't change that more considering, if I was a kid, I'd have no idea what the hell that was meant to be.
The title on the book is changed to "Magic" and the label is flipped upside down and shifted downwards because books are read from right to left in Japan and they wanted to make it seem like an English book.
Subbed:
Dubbed:
Hazuki says her magic words followed up with "A shortcake without the strawberry, appear!" In the dub, she says "Pretty soon I'll have a fairy, for now I'd like a cake no cherry! Appear!" The dub sounds awkward. "I'd like a cake no cherry"? I get what she's saying but it just sounds awkward. Why even change this? Strawberry shortcake is something we definitely have in America. As opposed to, oh I don't know, a fish-shaped cake….
In the shot where Reanne makes the cake appear, the label on the book is back in its original spot….
Oh my god. They accidentally left the shot too wide, so we can see Doremi doesn't have a bottom half when she's animated backing up.
Oddly, the dubbed version doesn't have this error. I don't know if it's because they fixed it on the copy 4Kids obtained or if they zoomed in slightly to cover it up.
The dub omits that their level 9 exam is on Sunday, followed by exams 8 and 7. In the dub, she just says the official fairy test is tomorrow.
Doremi points out that ghosts don't have exams and questions why witches have them. Then her friends sigh in exasperation. In the dub, she just says she hates tests, and Patina tells her, as long as she practices, she'll be fine, which makes her friends sigh.
Witch World is changed to the Lunaverse.
Majorika laments that she doesn't much care how Aiko and Hazuki do on the exam, but she doesn't have a choice in helping Doremi because she's the one she needs to get her back to normal. In the dub, she mumbles that she could have been queen of the Lunaverse by now, but she has to cater to these three instead.
Doremi kinda mocks Majorika here by saying "That's right! If your student fails, it will be really embarrassing for you, Majorika!" In the dub, Dorie tells her not to worry because she'll be fine, considering Patina said the test was easy.
Majorika says failing the level 9 exam is very rare, so Doremi asks if it's fine if she doesn't practice then. Majorika then blows up at her because, again, she's the only one she's concerned about not doing well. In the dub, Patina says that just because the test is easy doesn't mean she can risk screwing up. Dorie then asks if she can blow off practice for the day and practice tomorrow since it's Saturday and she has nothing else to do, which I guess means the date of the test was changed from Sunday to Saturday for some reason. Patina then yells that she can't practice tomorrow because the test is tomorrow.
The original doesn't mention anything about the fairies they receive being either level one or a reflection of their inner selves like the dub does.
Aiko wonders what kind of fairy she'll get. Mirabelle says her fairy will probably be able to kick some butt. Lala says she's excited to see the new fairies too while Lorelai says Mirabelle's probably right in her assumption. Doremi says she hopes to teach her fairy how to make magic goods. Dorie says the fairies can help out around the shop.
Majorika says all Doremi thinks about is doing things the easy way. Patina tells them to focus on passing the test before planning anything with their fairies.
A scene is cut of Majorika passing in front of the girls and muttering to herself wondering how the girls can pass like this. Doremi jumps up and says it will be a piece of cake before a test with a grade of 30 pops into frame, shattering her excitement.
Also, the bottom halves of the girls are again cut off as Majorika passes them.
Doremi got a 30 on her math test while Dorie got a D-. Typically, a 30 is most certainly an F. Also, Dorie adds "Well, at least it's not a D." which is obviously meant to show how stupid she is.
Doremi says that at least there's no math on the witch exam, so it should still be easy. Pop interrupts, seeing her grade, and asks "A 30? What's so easy about that?" In the dub, Dorie is still talking about the grade, and Caitlyn interrupts her to mock her on how she got a D- minus in subtraction and brags that it's so easy even she can do it.
Pop says she has to remember to not become a bad student like Doremi is. In the dub, Caitlyn demonstrates her math skills by saying "This family minus Dorie equals a cleaner house."
Doremi thinks about how terrible it is that her own sister has to be so cruel. Then she says her catchphrase of being the unluckiest pretty girl in the world. In the dub, Caitlyn points out Dorie's mistake from before in claiming a D- is better than a D, then Dorie thinks that she needs to come up with a comeback.
Doremi mutters her magic words in her sleep and says she's not a poor witch like adult Pop called her in her fantasy. In the dub, Dorie is silent until she flails and wakes up, saying she's too excited about getting her fairy to sleep.
Pop just kinda randomly wants to go to her grandma's alone. In the dub, her mother was going to take her and also get a cupcake along the way, but she insisted on going herself.
Pop says Doremi will only get in her way. Doremi responds with "Well, excuse me." In the dub, Caitlyn says they'll get lost if Dorie leads the way, and Dorie agrees.
They remove the next part where their mom agrees to let Pop go off alone. A chibi animation appears as their mom tells Pop to get a box of ten daifuku for her grandma (costing 1000 yen), get on the train and get off at the third station and then walk straight to grandma's house.
The money was originally for the manju (daifuku is a type of manju) and the tickets. In the dub, it's for the cupcakes.
In the original, their mom asks if Pop wants the "I'm Lost" sign. In the dub, she asks Caitlyn if she wants her to write down grandma's address to ensure she'll remember. Kinda prefer the dub…..Is the "I'm Lost" sign a thing? Either in Japan or in general? I've never heard that before.
Pop rejects the sign because it's uncool. Caitlyn rejects the address card because she's sure she'll remember.
Doremi comes up with the idea of following Pop on her broom my herself. In the dub, her mom says she wishes she could be a little bird and fly over her shoulder to watch Caitlyn, which gives Dorie the idea.
Pop wonders if she heard Doremi's voice. Caitlyn asks "What was that annoying sound I just heard?"
Doremi asks when she'll be able to fly properly. Dorie says "Stupid broom, never flies right!"
Doremi's magic words for becoming Aiko are changed in the dub to "When I wave my wand and cast a spell, turn me into Mirabelle!"
Pop thanks Airemi for putting up with her incompetent sister. In the dub, she says she wasn't aware Dorie had real friends, then she asks Dorabelle how much she pays her.
Pop says she doesn't have time to chat and apologizes for her rudeness before heading off. In the dub, she tells Dorabelle that she's a very good person for putting up with Dorie since she knows how annoying she can be. Then she excuses herself and leaves.
Dorabelle is angry that she wasted a magic sphere on Pop. Airemi is upset she has to waste her whole day following Caitlyn.
Dorie says Caitlyn's running errands, but that's not what she's doing. She's going to visit her grandma. Just because she has to pick up some sweets on the way there doesn't mean she's running errands.
Doremi says that her transformation into Aiko was so impressive that the exam will be easy for her. Aiko then slyly asks for her to lay off transforming into her, which….maybe this is just my garbage memory, but when did Doremi ever transform into Aiko? I know she's transformed into Hazuki, but I don't recall her doing it with Aiko.
Dorie says that transforming into Mirabelle backfired on her. Mirabelle then says Dorie probably thought she'd be able to pass the fairy exam if she transformed into Mirabelle.
Doremi apologizes for turning into Aiko. Aiko then criticizes her kansai dialect. Dorie says she wasn't transforming into Mirabelle to pass the fairy exam, and Mirabelle says that's good because there's only room for one (Mirabelle).
When Aiko reminds her to practice, Doremi thinks "Just like a Naniwa girl's personality. She always remembers." Whatever the heck she means by that. In the dub, Mirabelle basically says the same thing but Dorie thinks, "Oh man! When am I gonna find time for that?!"
Some text on posts and graffiti on the walls is removed.
Subbed: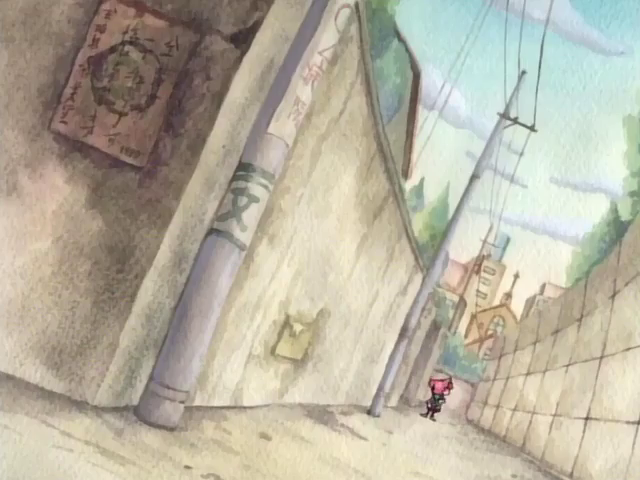 Dubbed:
Text on the poster on the pole is removed.
Subbed:
Dubbed:
Pop says that there's no manju shop around where she is before running off. Caitlyn says she must have taken a wrong turn somewhere and she'll retrace her steps.
They remove a shot of Pop with a big question mark over her head. I don't know why. They've been keeping nearly all of these kinds of cartoonish expression marks before now.
Gonna give my typical "If you see a sign, it's been digitally painted to be blank" notification here. They're the in the city now. Signs are everywhere.
Doremi's spell for the sign is changed to "I don't want my sister to be lost all day, make a sign and show her the way!"
Since this is a special sign, I'll note it. The giant sign Doremi conjures says "This way. Manju shop" In the dub, it's painted over to say "This way. Bakery." Honestly floored that they didn't change the picture of the manju to cupcakes.
Subbed:
Dubbed:
Pop originally calls the guy she asks for directions a "pretty boy." In the dub, she just calls him "sir."
Okay, it's nice that this guy is giving her directions, but it's kinda creepy for him to let her ride on his neck like that…..
The next bit of Doremi's inner monologue was almost kept the same. Doremi thinks following Pop would be much easier if she were a cat or a dog, but after seeing Pop get excited about the manju she decides that doesn't want to waste anymore magic spheres on her. In the dub, Dorie thinks the same thing about the cat and dog, but she adds that she could also turn into a bug and land on her arm. But then she rejects that idea since Caitlyn would probably freak out and squish her. When Caitlyn says she's going to buy the chocolate cupcakes like grandma likes, Dorie thinks to herself that grandma likes the coconut ones, not chocolate.
I guess these don't count as signs. The little price markers are changed to USD.
Subbed:
Dubbed:
Interesting how the digital paint goes outside of the frame. Also, the prices are off. The original price of the manju was 1200 yen, which, at least by today's conversion rates, is around $8.50. In the dub, it's $3.50. Gotta say, $3.50 for a box of ten "cupcakes" is actually really good, especially fresh from a bakery.
Pop says the manju are supposed to be 1000 yen. In the dub, she says they're supposed to be $3.00. The cashier only says that the prices went up this month. In the dub, she adds that the price was increased due to a strike at the chocolate factory.
Pop thinks to herself that, if she gets the manju, she won't have enough money left for the train. In the dub, Dorie's got inner monologue running over this shot, chastising her for buying the wrong cupcakes and pointing out that she won't have enough money. Her mom in both versions is kinda irresponsible for not giving her more than enough money for her trip. I know she's a little kid who might be tempted to spend all the money, but it's better to at least give her a few bucks more to ensure she'll definitely have enough for everything. Funnily enough, Doremi/Dorie mirrors my thoughts on this as she internally chides her mother for not giving her more than enough money.
Doremi's spell to give part of her allowance to Pop is changed to "As if this day couldn't get any worse, I never thought I'd say these words, but put my money in Caitlyn's purse!"
The money in Pop's purse is changed to American currency.
Subbed:
Dubbed:
Pop tells the cashier that her skin is white as the daifuku and her cheeks look like sakuramochi (which are pink). In the dub, Caitlyn asks the cashier what the secret is to her beautiful skin tone because it's as smooth as silk, and her hair glimmerings like dew on a fine summer's morning.
Oh….so it's just one cupcake for $3.50……In that case, what rip off. Also, now that I think of it, they didn't paint the daifuku into cupcakes either. How strange.
Doremi questions why Pop's haggling. In the dub, she questions why Caitlyn didn't look in the purse. She did, though. If you count once and know you don't have enough money, why would you bother looking again? You didn't give her a reason to re-check.
Hazuki's spell to make the square/cube hamburger is changed to "I just made a cookie shaped like a pear, now let's see a hamburger shaped like a square!"
Aiko's spell to summon a crescent rice omelet is changed to "At this rate, I'll never mess up! Let's have an omelet with some ketchup!"
The montage of following Pop is accompanied by rather dull jazzy oboe (?) music as Doremi narrates a bit about how much it sucks to follow her. In the dub, we get a poppy vocal song called "Now That I Can Fly" which I think was prompted purely because we see Dorie flying on her broom a bit better in one of the shots. I believe this song is kinda foreshadowing the very obvious future reveal that Dorie has actually been practicing her magic this entire time without realizing.
I know I said I wouldn't note signs anymore, but the sign for the train station is hilarious. It's painted to just say "TRAIN" in the biggest font they could manage.
Subbed:
Dubbed:
Doremi blames Pop's need to use the restroom on the ice cream she ate….which….why? She clearly has to pee……does eating an ice cream cone make you want to pee? I guess I never thought of it like that. It is a food, but it's also just frozen liquid, basically. I've never eaten a lot of ice cream and had a deep urge to pee. Is this a thing? In the dub, she doesn't mention this.
It's kinda weird how 4Kids has been wary of even acknowledging the existence of bathrooms or needing to go pee several times in other shows, but they're cool with showing Pop peeing her pants. I mean, you don't see anything, but it's very obviously implied.
How is Doremi down to her last magic sphere? She had a full wand of them earlier and has only done three spells so far. In the dub, Dorie even points this out by saying she's used six spell drops already.
Speaking of which, they were given a small sack of magic spheres. I sincerely doubt it was just seven or so each.
Okay, okay, okay. What Doremi/Dorie's doing is very nice, I'm not discounting how nice it is….but I really feel I have to point how insanely weird it is to have a scene where Doremi creates a "Wash your panties for free" machine out in the middle of the public park. And it's just a giant washing machine, too. So Pop/Caitlyn had to remove her underwear OUTSIDE and stand waiting outside without underwear for several moments.
What's even more shocking is the fact that 4Kids KEPT THIS IN. They even fully translated the sign!
By the way, are panties and pee and stuff okay to discuss as long as it's in reference to a little kid? Because that's kinda weird.
Subbed:
Dubbed:
Granted, they did remove the shot of the underwear being thrown into the machine, because I just guess that part's just too raunchy (You don't see Pop taking them off) but everything else is kept.
There's even a part where they dry the panties by holding up up high above the machine and blow fans on them. Because, yes, let's put those toddler's panties right up on display for everyone.
There's a vocal song played over this that isn't included in the dub.
When Pop runs off after getting her clean underwear, Doremi says behind her back "Good luck, Pop!" In the dub, Caitlyn says to herself "Now no one will ever know!" and Dorie says behind her back, "Well, almost nobody." Also, yes, it's definitely a secret what with your panties being flown in the middle of a park like a flag.
Also, will that underwear washing station go away after a while or does Doremi have to make it go away? Her transformation wore off after a few minutes, but does the same apply to objects being created/summoned? Because that would be really, really, really weird if it stayed there.
They remove Doremi shifting from being happy at her mom's acknowledgment of a job well done to her being internally devastated about the exam.
Majorika is just mad Doremi didn't keep a magic sphere. In the dub, Patina adds "So you weren't even practicing!?" Uh, yes, she was. She used all the spell drops, which means she was inadvertently practicing…
4Kids brings the subtraction thing back by having Dorie say "I know how to subtract." when asked if she's sure she has no more spell drops left. So you're saying you don't possess the ability to just feel in the bag if there was any left?
Doremi says she's the luckiest pretty girl. In the dub, she says if she had known she had another spell drop, she likely would have wasted it….You would? But you thought your last one was your last one, and you mulled over using it for Caitlyn because you knew it would cost you the exam.
Doremi says the exam will be a piece of cake now that she has a magic spheres. Dorie says she knew being bad at subtraction would come in handy one day.
The dub adds Dorie saying the door to the Lunaverse is actually the door to the patio.
Aiko says the test area looks like a booth. In the dub, she says it looks like a hot dog stand.
Name Change: The examiners names are Mota and Motamota, the latter of which being named since Motamota means "slow" or "inefficient." In the dub, they're Drona and Rona,
Despite the name change and the lack of any sort of alteration to make Motamota's name mean anything similar in English (Drona probably comes closest as it sounds like "droning" like "droning on." but not Rona), Aiko's next line is mostly kept intact. She says "She's definitely slow." while Mirabelle says "So, we've got slow and slower here." Being honest, I was kinda shocked they not only kept this line, but made it worse. Drona has only said "Hello'"so far, so it seems weird to call her "slow," but, overall, it' quite offensive to say such a thing in the first place. I know it was probably deemed less offensive in 2005, but still.
Mota says they should get started. Motamota says she's so excited. In the dub, Drona sounds like she says "Let the tasting begin." which I think is meant to be "testing" but considering the test in question, I could be wrong. Rona's line in kept.
Doremi complains about the lack of tension since the examiners are so blasé about it. In the dub, Dorie says she hopes there aren't many rules.
Believe it not, there originally wasn't any text on the examiners' book, so 4Kids actually isn't responsible for the cover being blank. Go figure.
Aiko's test was originally to make cubical takoyaki. In the dub, it's to make square hot crab cakes.
These are crab cakes?
Aiko's spell is changed to "I'm gonna show that I got what it takes! Make a plate of square shaped crab cakes!"
Hazuki's test was to make a three layered pudding. In the dub, it's to make a triple chocolate cream souffle.
Hazuki's spell is changed to "I hope I pass this test today, with a triple chocolate French souffle!"
Doremi's test is to make milk, anmitsu and coffee. Anmitsu is a dessert dish made of cubes of jelly. In the dub, her test is to make hot milk, jelly and taffy.
It does seem pretty unfair to give Aiko and Hazuki relatively normal foods and then throw some weird shit at Doremi/Dorie.
Doremi's spell is changed to "I'm going to be a witchling forever! Make a hot milk taffy plate, whatever!" Yeah, those are the words of a true girl who is taking this test seriously…."Whatever."
The reason Doremi's spell failed and made a steak was because, instead of indicating exactly what she wanted before saying 'Appear!' like she normally does, she muttered "The most delicious food…" a few times before doing her spell and just saying "Appear!" which made a steak appear since that's her favorite food. In the dub, she did indicate partially what she wanted, but it made a steak because she performed the spell while hungry.
Believe it or not, the fairies, Mimi and Rere, are entirely retained, from their names to the fact that they repeat their names over and over like Pokemon.
Doremi sulks in both jealousy because Hazuki and Aiko passed and got fairies and in sadness because she didn't pass. The camera then pans up to show the moon as the episode ends.
In the dub, she mutters that she wonders if she can have the steak she made….because…I guess she doesn't give a crap that she failed? Also, instead of panning up to the moon, they circle transition in on Dorie's face.
—————————————-
And that's episode seven. Yup, she just fails her exam. I was actually surprised that she flunked because I thought the lesson would be that she was practicing all day without realizing it, she was using her magic for good reason, she was even getting better at flying, and then she'd be able to implement her practice in her test and get a new appreciation for actually studying….but nope. I also thought maybe they'd let her squeak by because she seemingly sacrificed her one chance at taking the exam to help Pop, but, again…nope.
I guess the lesson is that you may be able to improve skills in your everyday life, but if you don't take your studies seriously and actually make an effort at practicing or studying then you won't get very far. That's actually an extremely good lesson. Doremi shouldn't be punished for choosing to take care of her sister instead of going to practice, but the fact of the matter is if she had been practicing the entire time, like Hazuki and Aiko, she'd be fine. Instead she blew off practice, thought the exam would be incredibly easy and got cocky about her chances.
In Dorie's case, she was even worse. First of all, claiming it was more beneficial to be bad at subtraction? Not a good message, Dorie. Second, what was that pathetic spell? It would be one thing if she just messed up because she had the wrong thing in mind, like Doremi, but "Hot milk taffy plate whatever"? She was even setting up the "Whatever" on purpose because she started with "Forever." I'll make up a spell for you. "Hopefully this dish will fill your belly! Make me hot milk, taffy and some jelly!"
I also don't approve of the very ending in the dub where she's wondering if she should ask for the steak. It really makes it seem like her attempted sacrifice for Caitlyn earlier wasn't much of a sacrifice if she fails the test and is just like "Eh, I'm hungry…."
Mimi and Rere are pretty cute fairies, and I guess the dub wasn't wrong in their assessment that their fairies would be reflections of themselves. Rere even has big glasses. That begs the question, is Lala meant to be a reflection of Majorika too? What does that imply? Also, do fairies grow up and eventually become like Lala in that they can speak fluently and become more human-like?
Overall, even though Pop/Caitlyn is really annoying sometimes, I did actually like this episode quite a bit. Even if she was forced to do it, Doremi/Dorie took pretty good care of her sister and even seemingly sacrificed her chance at becoming a witch and getting a fairy all to ensure her sister was okay. That was pretty sweet.
I also liked that Doremi failed the exam. I wouldn't have objected very much to her passing, but her attitude and behavior before indicated that she didn't really deserve to pass. If anything, passing her would reinforce her belief that this stuff is easy and she doesn't need to study to succeed with it. As the next episode preview shows, she will have another chance at taking the test, but she'll need to actively put in the effort this time.
…..Of course, there's no tension now because the next episode preview entirely spoiled that she would pass the exam. They didn't say it, but they showed Doremi's fairy full out, and she'd only get a fairy if she passed….Why do next episode previews insist on spoiling everything?
Next episode, WILL DOREMI PASS HER MAKEUP EXAM?! I DON'T KNOW! IT'S A BIG MYSTERY! D:
---
If you enjoy my work and would like to help support my blog, please consider donating at my Ko-Fi page. Thank you! ♥