Machop
Name: Machop is a combination of "macho" and "chop." Machop is a good name. It's snappy and fitting while also being kind cute.
In Japan, it's known as Wanriki, which is a combination of "wan" for "arm" and "riki" for "strength." This name doesn't really appeal to me all that much. It's fine and fitting, but I prefer Machop.
Fun Fact: Machop's beta name was Kara-tee for karate. I actually think that would've been cute.
Design: I'll admit, I used to find Machop kinda creepy looking, but now I find it pretty cute. Sure, humanoid Pokemon are always a bit weird either way, and Machop's half-human half-dinosaur/Gumby body is something alright, but it's got its own cute charm to it…..Not sure why it has a tail, but okay.
Sprite-wise, Gen I is pretty funny. Look at R/G's doofy-ass face.
R/B looks a lot cuter, but it still looks like someone glued googly eyes to it.
Yellow is better, but those arms…..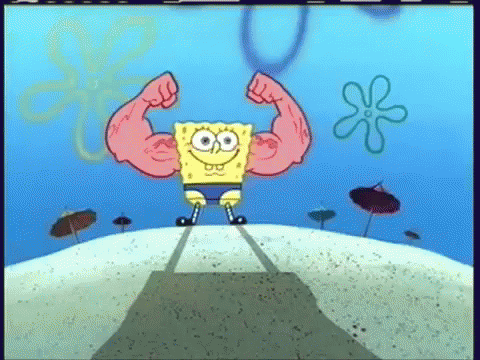 Gen II is colored a bit oddly with Machop being more of a dirty bronze color than bluish-gray.
Most of the sprites beyond this point are pretty cute, except when we get to Gen VII where the default sprite looks smushed and weird.
Shiny:
Ah yet another shiny that looks like it's spent a few hours swimming in pee. Shiny Machop isn't too terrible compared to the other pee shinies, but I still wish they had chosen a different color.
Dex Entries and Backstory: Machop is strong, and a master of many martial arts. It loves using Graveler as a barbell for some reason. Its muscles never get sore or cramp no matter how much it trains, and it can throw 100 adults. It likes particularly nutritious foods in order to help build more muscle, and it strives to challenge a Makuhita to a fight.
Design-wise, Machop is obviously based on body-builders, but it also has some reptilian features incorporated into it. Why? I have no idea. But it works fine enough.
Machoke
Name: Out of the three, I like Machoke's name the least. I get that it's making secondary theming by having each second word also begin with a 'ch' word, but "choke" just sounds a bit too much like this Pokemon's a serial killer not a master martial artist or body builder. I get that chokeholds exist, but it's not what my mind immediately jumps to when hearing the word "choke."
In Japan, it's known as Goriki, which means "herculean strength." I like it better than Wanriki, but I still don't care for it all that much.
Fun Fact: Like Machop was going to be known as Kara-tee in the beta version of the English games, Machoke was going to be known as Kung-Foo.
Design: Machoke looks even more human-like than Machop to the point where it now has spawned wrestling trunks. It also now has a championship belt, which is actually a power regulator.
Machoke is purple, so it's already earning a few points with me. Otherwise, it's a pretty okay design. Despite losing the tail, it retained some of its reptilian features, and I like that the stripes on its arms look muscle details.
Sprite-wise, R/G is just as doofy as Machop's R/G sprite.
R/B is hilarious because Machoke looks cross-eyed there. The fact that it looks like its making armpit farts doesn't help.
What the shit, Yellow? Ew.
Gen II looks alright…..barring the pec wiggle.
Gen III is alright too, but what's up with the animation for Emerald? It looks like he suddenly decided to take a violent crap on the floor.
Everything else is alright. He's just posing and flexing his muscles in various ways.
I will ask why Gen VI onward looks so gray. It's like he now has Machamp's colors instead of his own purple coloring.
Shiny:
If Machop was swimming in pee to make its shiny, Machoke was swimming in baby poo. The blue on the stripes is a nice touch, but otherwise, ew.
Luckily, they realized how barfy this looked and changed the shade as time went on. Gens IV and V look more like pine green, and it's a lot nicer.
So of course they made it worse later by having every Gen beyond that point look like Machoke is sick.
Dex Entries and Backstory: Machoke is really strong. It is typically used to help with jobs involving heavy materials, like clearing land and construction. It never gets tired, and needs the aforementioned belt to regulate its power, which is weird because several Dex entries note that it always goes at full power.
Design-wise, Machoke has the same inspiration as Machop, except maybe with slightly more pro wrestler influence.
Machamp
Name: I think Machamp is a perfect name for the final evo of this line. It's the CHAMPION!
In Japan, it's known as Kairiki, which translates to "superhuman strength"….not sure if that's better or worse than "herculean strength" but okay.
Fun Fact: Beta!Machamp was going to be known as Ju-Doh.
Design: Out of the entire trio, Machamp weirds me out the most. I think it's the four arms combined with the weird huge lips. Something about that combo is just weird. It doesn't look terrible, but it kinda weirds me out, is all.
Sprite-wise, pbbbbbttttthahahahaha R/G again.
R/B just looks weird. It's almost like it has three arms on its right side.
Yellow, for some reason, gives off 1920s cartoon vibes.
Gen II is very golden for some reason. I love the animation for Crystal.
What is up with the back sprite, though? It's like it's asking for a high five.
Everything else, which is mostly just flexing poses, is fine.
Gigantamax Machamp:
Mmmm….I don't care for it. The face looks weird, I don't much care for the charcoal gray color, and it's just a weird shape. What is up with the Popeye-esque muscular structure of the arms? And why do the hands look too small/short? I do like the lava-esque cracks on the forearms, but that's about it.
Shiny: More green, but I guess they got the memo with Machoke and decided to make most of Machamp's shinies a pine or lime green….
….Barring Gen II of course, which looks more like overcooked asparagus green….
and Gen III, which looks more like the baby poop shade Machoke had.
Shiny Gigantamax Machamp is also green, but a darker shade.
I think it looks…..eh. The green doesn't go well with the orange and yellow 'lava' cracks anymore. It makes me think Machamp's turning into a citrus fruit.
Dex Entries and Backstory: Machamp is really, REALLY strong. It can throw punches from all four arms insanely fast, over 1000 in two seconds, and throw its victims over the horizon. One arm alone has the strength to move mountains. However, it has an issue with dexterity due to its four arms. It needs to really think about it before trying to do anything involving careful precision otherwise it may tangle its arms.
Gigantamax Machamp has punches so powerful that they sound like bomb blasts when they hit. It's so strong that it once lifted a large ship back to port when it experienced trouble at sea.
Design-wise, the only difference between Machamp and the others in the line is that the blue skin and additional arms may be in reference to Hindu gods, Shiva or Vishnu.
And that was the Superhuman line. Honestly, not a whole lot to say, but it's a pretty cool Fighting Type line, and it's definitely a classic. Fun fact one last time – Machamp was the first ever holographic card I ever got, and I still have it.
Next time, the Bell Plant line!
---
If you enjoy my work and would like to help support my blog, please consider donating at my Ko-Fi page. Thank you! ♥