Card (s) of the Day: Mist – A card that creates an odd green mist that destroys anything that it touches. Its weakness seems to be Shadow as it can contain Mist and keep it from spreading and causing harm.
Plot: Toya's school is holding a fair, and he's set to be in the play of Cinderella. As Cinderella. The play is actually gender-swapped, meaning the boys play all the girl parts and vice versa. A girl named Yoko, who has a crush on Toya, gets the part of the prince. However, the Clow card, Mist, appears and puts Toya and Yoko in danger. Sakura has to stop Mist before they're hurt or worse.
————————————
Title Change: Sakura, Toya and Cinderella is changed to Play Misty for Tori, which makes sense, but also doesn't?
Sakura's ticket is painted over in English and the details are changed. The Seijou High School Fair is changed to the Reedington High Culture Fest. The dub gets the date right, but the original doesn't state that it's the 24th annual fair.
Subbed:
Dubbed:
Also, I have no clue why they erased everything but one of the x parts of one of the kanjis.
Hey guys, guess what? Yukito was cut out some more! As she looks at the ticket, Sakura flashes back to Yukito giving it to her. They talk about how Toya's been staying late at school the past few days to prepare for it, and say he might be worried about the play. Yukito hands her the ticket, says it's good for both her and a friend and that the ticket also allows her to eat at any of the booths. All of this was removed. And because we have an overlaid transition to get us back to where the dub starts, they do some REALLY sloppy editing that makes it seem like the footage got somewhat eaten in a VCR.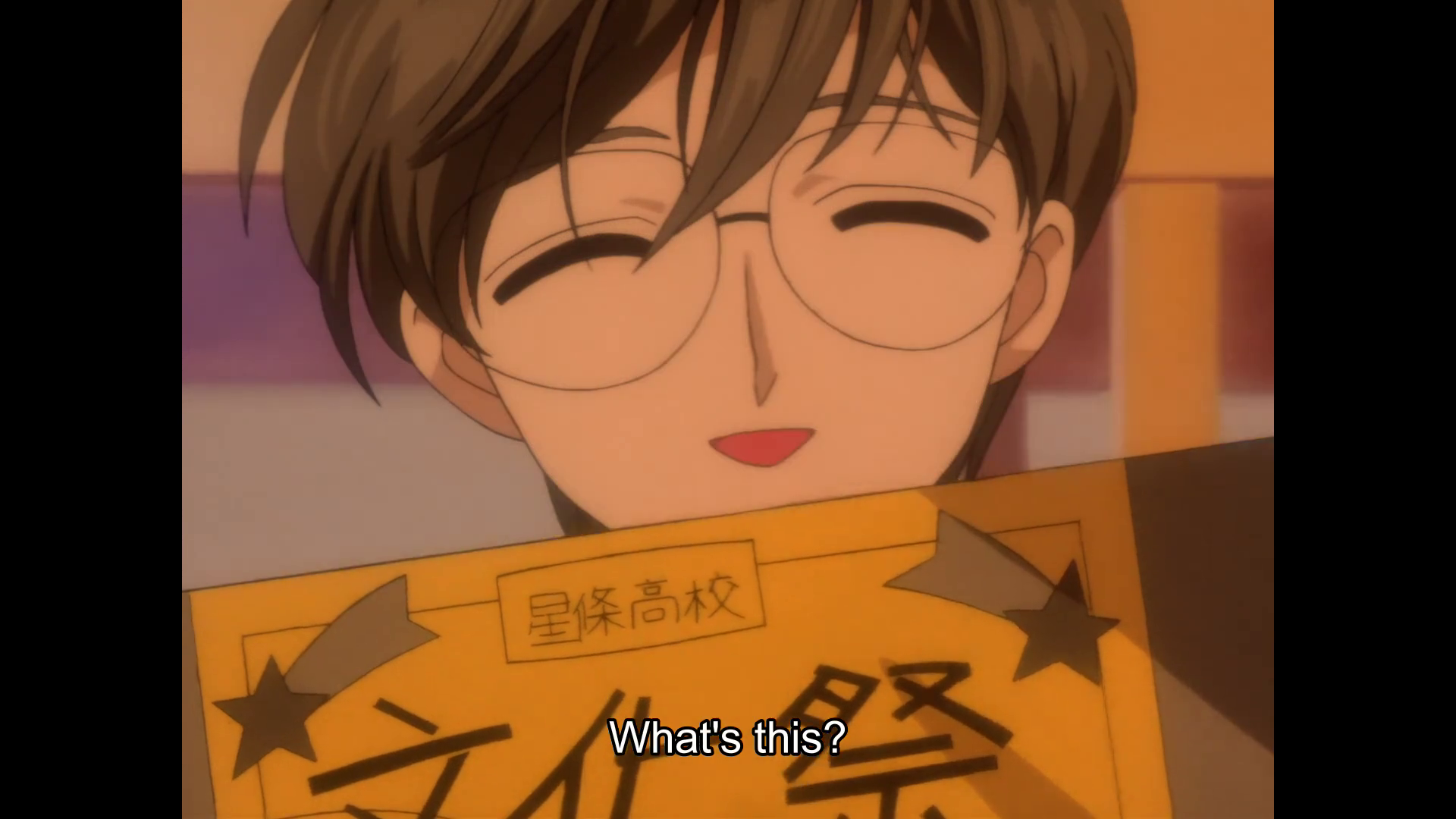 Tomoyo originally gets in a good close-up of Sakura because she looked so lovely as she was lost in thought in her flashback. Sakura then nervously laughs with a somewhat cartoony face. In the dub, this is changed to just her freaking Sakura out because she brought the camera in case a Clow card showed up – something she really shouldn't be surprised at anymore considering that thing is almost always glued to her hand. Also, the editor must just be drunk today because they cut out Sakura's nervous laugh and cartoony face, but it's shown for a brief second again making the footage look like it was messed with.
The other student asks Toya if he can mend the shoes, and Toya says he can do it with the other guy's guts (??) In the dub, the guy asks Tori if he needs the shoes, and Tori says he has his own.
After that, the girls rush over and clamor at Toya for being good at sewing and they say he'd be a good husband. The editor strikes again because they cut out the shot of the girls clamoring for no reason I can fathom, causing a jump in the footage and a whiplashing dialogue shift. The dialogue is changed to them basically mocking him for 'losing a bet' and taking an embarrassing role in the play.
Yukito's stand is specifically a candy shop, not just a generic food store.
The food choices are cold-candy water and ramune soda in the original. They're lemon soda and desserts in the dub.
Sakura looks at Yukito as he walks away and says softly 'Yukito-san'. This is removed.
God, the editor is having a rough day. Sakura sees Syaoran, and he stares hard at the three of them. Sakura freaks out slightly, and we cut to Syaoran with intense flames in his eyes. Yukito asks if he'd like another, and Syaoran shyly nods 'yes.' Sakura and Tomoyo see a mess of bottles and plates indicating that Syaoran has been there for quite some time. We get more glaring and Syaoran jumps towards the girls dramatically. All of this is edited it out because it's more poking at Syaoran's crush on Yukito, but it, like the other scenes, was edited with a second of footage from the clip left behind making it glaringly obvious that something was removed there. In addition, Julian doesn't ask Lee if he wants another, he just greets him and Syaoran lunges at the girls.
Toya's friends are baffled by Toya's work ethic and strength as he doesn't believe the trunk that they're lugging around is heavy. They ask if he's a robot or a gorilla and Toya stops to think. In the dub, they just say they need help moving it.
The girls are watching the guys carrying the trunk and they gush over Toya some more. They talk about how he's on the soccer team, good at cooking and sewing etc. and they ask Yoko, the red-haired girl from earlier, if she likes Toya too. She asks why they'd ask her such a thing, and they say she'd make a cute match for him seeing as how she's the head of the drama club and is good at taking care of people. She rolls her eyes and walks off. In the dub, oh wait a sec:
Name Change: Yoko is changed to Vicki.
As I was saying, in the dub, the girls are basically complete bitches. They whine about how the boys better not ask them to help move the trunk and how they better get moving to get to the stage with the trunk on time. They then ask Vicki if she memorized all her lines, and she says she memorized most of them. The girls taunt about how she'll forget her lines and make a fool out of herself if she doesn't ensure that she memorizes all of the lines. Vicki then walks off to study her lines some more. What is with older English dubs and making girls snobby divas? 4Kids did the same thing. Also, why are they removing a heterosexual same-age crush from the series too? There are no "content" excuses for that. Do they just want to remove most romance aspects now?
Even more of these hints of a crush are removed because, after Yoko leaves, the girls assert that Yoko probably does like Toya, but they understand why she's so avoidant of the matter because it's supposedly one of the 'seven mysteries' of their school as to why Toya and Yukito don't have girlfriends and shoot down every girl who asks them. Gee, two of the hottest guys in school who spend practically all of their time together and seem to show no interest whatsoever in the opposite sex sure is a mystery. I mean, it's not right to make assumptions but really, come on. I refuse to believe no one at their school ever suggested this possibility. This entire scene is removed. At least they didn't make the edit sloppy this time, though.
Syaoran responds to Sakura liking the stuffed pink bunny by asking her why she would like such childish things, and she responds that it's because it's still cute. In the dub, Lee tells Sakura that she has one just like that at home, and Sakura says she likes it anyway. How exactly does Lee know what stuffed animals Sakura has at home? He's never been in her room has he?
The fee to do the challenge for the toy is actually 100 yen, roughly a dollar. But since 100 yen is a coin, they change it to a quarter. By the way, really, the challenge for getting one of various SMALL CUTESY STUFFED ANIMALS is to dribble past five players on the school's basketball team? This is either a booth specifically designed for guys to impress their girlfriends and win them a prize or this is the suckiest booth ever. I'm not saying a girl couldn't do it or wouldn't want to, I'm quite certain there are some girls in the school who would, but I doubt the number would be big enough to warrant a booth. I also doubt the number of teenage boys who would do the challenge would want a pink bunny.
In response to Yukito giving Sakura the bunny, Syaoran grumbles a bit. The grumbling's removed.
I'm actually surprised they left the following scene where it's shown that Yukito also wins toys for Tomoyo and Syaoran.
Syaoran shyly asks Yukito if he's also going to be in the play. Yukito says yes and that his role is a can of mackerel. The kids all try to process this weird information, but Yukito just smiles. All of this is removed and the editor mucked up the cut again. Dude, even when I did AMVs in Windows Movie Maker I was still able to do fairly clean cuts almost all the time. You have professional editing equipment, what is happening?
Also, I can understand removing the part where Yukito and Syaoran talk, at least by Nelvana's stupid standards, but why the rest of it? There's so much hacked away today that it's one of those episodes that I really fear will be extended for time with something or other.
Since all of that is removed, the rest of the scene is changed. Sakura originally says that it sounds like a yummy role, and Yukito agrees because canned mackerel is really good. In the dub, Sakura continues on the previous discussion about Tori being in the play and says that whatever role he plays he's sure to be great at it. Julian responds that he's sure it's a performance that they'll never forget.
Syaoran asks why canned mackerel would be in a play about Cinderella. In the dub, Lee says Tori's probably going to play one of the rats.
Upon seeing Toya as Cinderella, Sakura falls out her seat and the girls in the audience clamor over Toya. When Sakura pulls herself together, Tomoyo points out that Toya's really popular. In the dub, all of this up until Sakura pulls herself up in her chair is removed, and since the scene with the girls was removed, Madison says that Julian was right about this being a performance they'll never forget.
I'm starting to wonder why this entire episode wasn't axed. I mean, it's butchered enough as it is, you can tell that just from this comparison, and we're just barely past the commercial break so there's probably plenty more to go. Now we have crossdressing. Look at all the stuff that has been cut either for stupid reasons, pointless reasons or no reason at all in this one episode. Now take into consideration that Toya's crossdressing and it's left alone. It's not just him either, the other female roles are being filled by guys from his class too, and the prince is played by a girl because it's a gender-swapped play. I don't get their logic at all. I'm glad they're leaving it, but I don't get their nonsensical rules.
ALSO, this scene directly contradicts the girls' words from earlier about feeling bad for Tori because he 'lost a bet' and I guess had to take that part because of it. It's a gender-swapped play, meaning other boys are dressed in feminine clothing too. If anything, Tori had the best part in the play because he gets a love scene with an attractive girl.
They remove a shot of the two boys playing the evil stepsisters getting in each others faces about who's going to marry the prince.
To add more time, they add in a shot of Sakura making an awkward face from earlier.
The play's actually been fairly loyal, dialogue wise, but before the stepsisters and stepmother leave, the evil stepmother tells Cinderella to be jealous, and the stepsisters tell Cinderella to make ramen for them before they come home from the ball. No demands for Cinderella to be jealous are made, and the stepsisters tell Cinderella to make them a late night snack for when they come home.
In response to Toya's less-than-enthusiastic acting about wanting to go to the ball, Syaoran says "I don't think he wants to go to the ball at all." In the dub, it's kept the same, but Lee's delivery of "I don't think he wants to go." is almost as bad as the way Tori's VA is purposely trying to act right now.
Okay, this is just getting ridiculous now. I'm actually getting a little angry. Yukito comes on stage and, again, all of the girls clamor. Tomoyo points out that Yukito is also very popular. Sakura agrees, claiming it's because he's so wonderful. Syaoran nods in agreement then realizes what he did and grumbles. Yukito's role is….odd…to say the least. You remember how he said he'd be playing a can of mackerel? He wasn't lying. He is playing some wizard or something that hands Cinderella an invitation to the ball. He has a can of mackerel on his head and states that the can of mackerel is where he gained his powers. Sakura and Syaoran both fall over this time, and Tomoyo states they must've used that to raise awareness over wasting things. It's a weird yet funny scene. All of it is removed. Also, no, it is never once explained what this is actually about, though that's the joke.
Something had to have been done outside of one funny face shot insertion to make this episode run longer. There is just too much removed. Maybe they jam packed a lot of commercials.
Another shot of a goofy face of Sakura's is removed.
Sakura and Syaoran both get a goofy face and say this is a weird play. They realize they said the same thing and both grumble. This is removed too.
More of the dance is removed for no reason.
Another mention of the ramen for dinner is omitted.
In addition, since Yukito's part was completely cut, we get another funny line gone since Toya originally says 'but the can of mackerel said I had to be home by midnight.' In the dub, it's the obvious Fairy Godmother.
Tomoyo only missed the capture, she never intended on recording the play nor did she ever try. The dub claims that she ran out of film before the play started and that's why she also missed the capture.
When Yukito shows up, Syaoran bows and says he did a great job as the can of mackerel. Yukito thanks him. This is removed, but they couldn't avoid showing Syaoran's embarrassed face in the next shot as Sakura asks where Toya is.
Yoko brings Toya up to the roof and confesses her feelings to him. However, he gently declines. She asks if he likes someone else and he nods. She says she figured that was the case and wipes some tears away telling him to not worry about her and apologizes for crying. She then points out that the bonfire dance is starting soon and asks him for a favor – one dance. He agrees.
In the dub, Vicki just says thanks to Tori and says she owes him big time. She says it's a shame that the play was ruined, he nods in agreement and she says there's always next year. Then she asks to dance with him. The shot of her wiping away tears is also removed. I have no idea anymore. I guess all love is bad in Nelvana's eyes. Maybe it was changed because Toya kinda-ish implies that he likes Yukito in the end, but it's not that much. He just said he likes someone else. It's only because I know about what happens later on that I know this is a poke at him liking Yukito. Plus, they could've left in the stuff about Yoko's crush without implying that he has a thing for Yukito or even anyone else period. He could have just said he doesn't feel the same way and let her down gently.
If you were only watching the dub, you'd be totally confused as to what this character's purpose in the episode was. She didn't study her lines much then got saved by Toya. The end.
Toya originally says as he walks away, since it was time to change partners, that he never promised anyone else to a dance. Yoko then says he acts a little too cool. In the dub, Tori says he wants to talk to his sister for a bit and Vicki says she'll wait for him then.
Also, a music note, in the original, the song playing during the bonfire dance…..is "Do Your Ears Hang Low?"…………………………………..Wh….why? I just….why? Why would that song be playing at a high school bonfire dance? Oh yeah, when I want to have a nice dance with someone I like, the first sweet romantic hit I think of is ♪ Do you ears hang low? Do they wobble to and fro? Can you tie 'em in a knot? Can you tie 'em in a bow?♪
It's not even the fact that it's not a romantic song, because it doesn't have to be for a bonfire dance. It's the fact that it's a children's song, one most kids don't dance to, being played on something like an organ grinder. In the dub it's just generic BG music, which, in this one instance, is actually better.
Yet they leave in the final scene with Yukito and Sakura dancing and even the closeup shot of Syaoran's emotionally crushed face, but they remove the later scene of him making an equally crushed face in the background as Tomoyo films.
Also, hey Madison, I thought your camera 'ran out of film.'
Leave it to Kero-Chan!/Kero's Corner: They actually get everything right, but the reason Tori's bag has no school emblem is because it's not given by the school, and they never mention that Julian's bag is from his grandparents.
————————————————
Overall, this episode is okay. The weird play was quite funny, but the Clow card and capture were ultimately boring. The dub was awful, and they made what seems to be way more cuts than usual. The only scene that was mostly left alone was the capture scene.
Next time, Kero and Sakura have a fight and he runs away from home.
---
If you enjoy my work and would like to help support my blog, please consider donating at my Ko-Fi page. Thank you! ♥