Plot: Nami runs into Luffy while running away from Buggy's pirates and pretends that he's her boss so that she can get away while they're distracted by him. However, much to Nami's surprise, Luffy easily defeats the pirates. While Nami treats him to some food, Luffy asks her to be his navigator, but she refuses when she finds out that he's a pirate. However, she seemingly changes her mind and agrees to be his navigator if he agrees to meet with Buggy first. Luffy agrees, but she betrays him and pretends that she's handing over her boss and the map to the Grand Line to be on Buggy's team as a ruse to get both the map and Buggy's treasure. However, when she's told to kill Luffy as a sign of loyalty to Buggy, she finds herself trapped in a moral dilemma.
—————————-
Title Change: Terror and a Mysterious Power! Pirate Captain Buggy the Clown! is changed to The Circus Comes to Town.
Title Card:
Subbed:
Dubbed:
I love how the 4Kids version really does act like it's possible that Luffy died from that fall. Right. That'd certainly be a funny way to end the series. "I'm gonna be King of the Pirates! -SPLAT- The end!"
Luffy's punch to one of the pirates is edited out.
They edit out Luffy's Gum Gum Pistol hitting the other two pirates in the face.
The words 'Drinker Pub' are edited off of a sign.
Subbed:
Dubbed:
In the original, there's a bit of pun where Buggy's pirate tells him that they left the key in the lock. Tsukeppanshi means "left in" but Buggy mistakes it for tsukeppana which means "Fake nose." In the dub, the pirate says "Only the robber knows…" and Buggy mistakes that for "Rubber nose." I don't know what the pirate was going to say there. Only the robber knows….where the map she stole is? But you gotta give 4Kids credit for trying to put that pun in there.
However, they kinda screw it up later in the scene. Buggy flips out and yells at the pirate insinuating that his nose is big and red and looks fake. The pirate in the dub says "It's a mistake!" in regards to hearing him incorrectly, but Buggy says "So now it looks like a steak?!" Well, steaks ARE red, but they're not usually round and ball-like. I'll leave your points where they are but that was kinda weak, 4Kids.
The original has Buggy ask the pirate what he does to traitors, and the pirate says he flashily kills them. In the dub, this is replaced by the pirate begging for his life.
In the original, Nami likes money and mikan, which are Japanese citrus fruit. In the dub, she likes money and tangerines…..They're different. It counts.
And nooooooowwwwwwwww….the moment some of you have probably been waiting for maybe….Yet another of the most infamous One Piece edits! One of Captain Buggy's pirates, the one who announces that Nami has arrived, was originally black. 4Kids, sensing that this may cause some racial backlash, decided to solidify that this would cause racial backlash by digitally painting the black guy into a white guy.
No….no, I am not kidding. I wish I was, but I'm not. I think a rep for 4Kids said that having a black pirate lackey could somehow be construed as racist so they turned him white (Don't quote me on that, but I distinctly remember being told that). This in turn made them actually seem racist when they more than likely wouldn't have had they left it alone. If they had left it alone and gotten criticism for it, which is unlikely, but still, they could have just blamed the original show creators. But this is 4Kids. The day they leave something alone is the day riceballs aren't donuts.
Subbed:
Dubbed:
Originally, Luffy asks why he's in a cage. In the dub, he tells Nami to forget about being on his crew.
A scene of one of the pirates chugging a barrel of booze is edited out as is most of the scene with the party which includes some guy with like eight small casks of booze in his mouth. Also, a bottle on Nami's table is edited away. What little scene remains is edited to make the beer look like orange juice, but I was too busy looking at that one pirate near Nami. Originally, he had a sword in his mouth and was balancing a bottle on it. In the dub, he's got a balloon animal balloon in his mouth. Why? I dunno.
Subbed: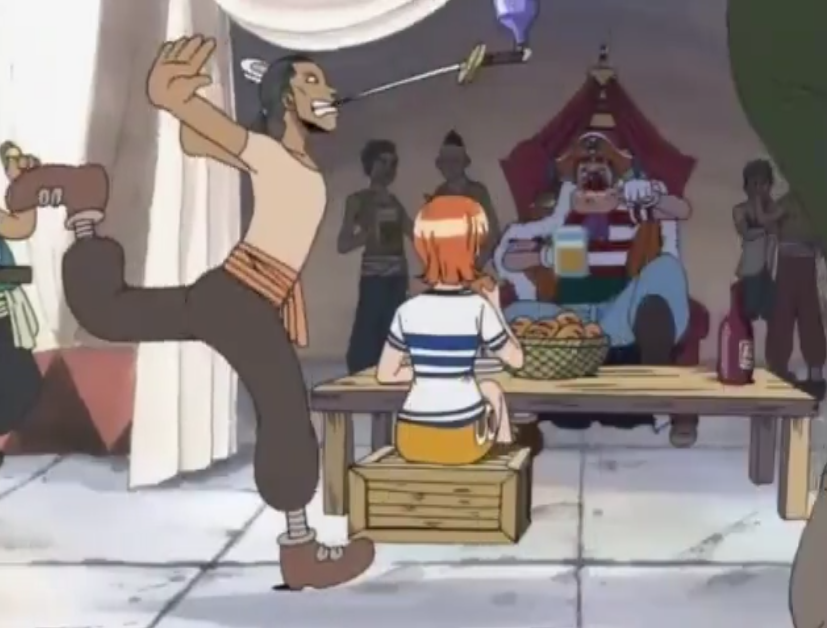 Dubbed:
Extras:
Yup yup. The drink they have is grapefruit punch in the dub…..Guh, I hate grapefruit juice. Whoever named grapefruits should be jailed for besmirching the good name of the delicious grape.
Dub!Nami: "At this rate, they'll all pass out from acid indigestion and then their treasure will be mine."…This….I can't even…..First of all, who passes out from acid indigestion? You'd need immediate medical attention if that was true. Second, who the hell thinks that? Third, this line is made even more stupid because the original says nothing about waiting for them to pass out. You'd think the original was waiting for them to get so drunk that they all pass out so that she can get the map, but nope. She just thinks she'll bide her time until she can swipe the map again and get Buggy's treasure while she's at it.
Oops, 4Kids didn't notice that the black/white guy from before was in this shot. Whoopsiediddledaisydoo.
They replay that scene with the guy chugging those small casks and 4Kids doesn't edit out this one….*shrug*
At this point I should mention that there are tons of occasions where Buggy has this weird Yami-Marik type filter on his voice in the dub. No type of filter is used in the original.
Buggy's Buggy Bombs got changed to Buggy Balls. -giggle-innuendo-giggle-
And the black guy's changed back to white again.
A bottle on the floor gets edited away after Buggy launches his Buggy Bomb.
Subbed: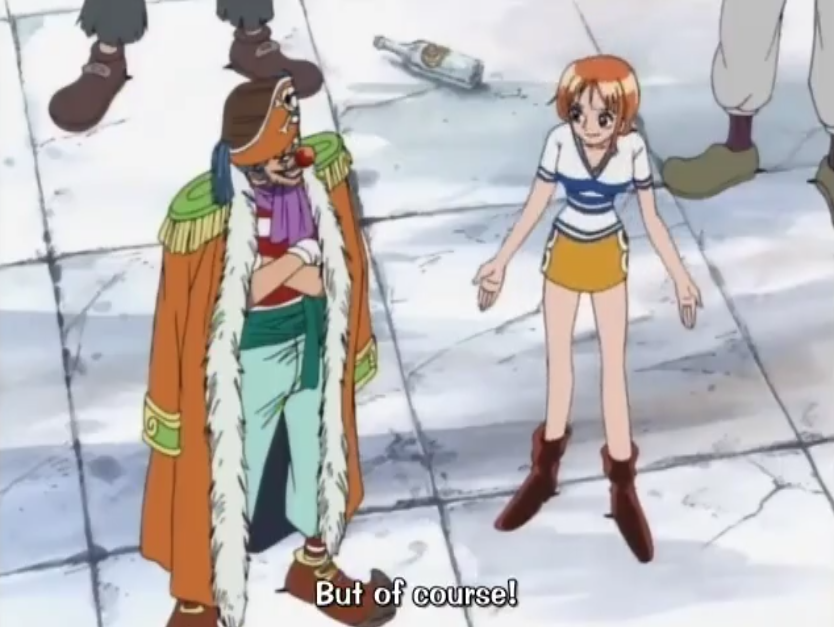 Dubbed:
The panning shot of the pirates is shortened.
The scene where Nami's deciding whether or not to light the cannon has also been shortened.
Originally, the sound cuts out all but Nami and Luffy speaking to each other. This is shown as we see the pirates cheering, but don't hear them. Luffy tells Nami that she shouldn't go up against pirates if she doesn't have the determination. Nami says "What? Determination to kill people without hesitation?" And Luffy says "No. The determination to put your life on the line."
In the dub, the sound is unaffected, and Luffy tells Nami that, because she's shaking while considering attacking him, she really doesn't hate pirates as much as she says. Nami responds by saying "I don't hate pirates because I'm not willing to blast one like it's no big deal?" Luffy responds by saying if she feels so strongly that she has to put everything on the line.
The scene where the pirate is about the light the fuse is sped up.
After Nami hits the pirate with her staff, we see him pop up in a goofy manner with a pink mark on his face. This is edited out of the dub, which is weird because you'd think they'd be glad to leave in a shot where it shows that the pirate is relatively okay.
The scene where Nami uses her hands to extinguish the fuse is shortened.
In the dub, Zolo, who just showed up literally a few seconds ago, says, "Nami, are you hurt?" How do you know her name? You never met her.
A shot of Buggy twirling his knives and him licking his knife are edited out.
Even though the silhouette of Buggy getting cut up was left in (Was floored by that), any shot showing Buggy cut up is edited out, until after we hear Nami and Luffy talk, then they put it back in….I dunno what's going on there.
When Zoro gets stabbed, we see the blade protruding from his abdomen, blood seeping through his sash, a backshot of his wound and the blade being removed. All of this is edited out/painted away.
Subbed:
Dubbed:
Extras:
Originally, Nami says she didn't believe devil fruits were real. In the dub, Nami asks what kind of cursed fruit he ate, even though he just outright said the name directly before she asked that.
For more awkwardness, originally Luffy said "A splitting man?! He's some kind of monster!" Then we comically see a text box with an arrow pointing to Luffy saying "Rubberman" In the dub, the dialogue is kept basically the same, but the text box is edited away. Also, they keep the length of that scene exactly the same, so we're left awkwardly waiting for the next shot when there was supposed to be a joke there. Really, 4Kids? Was it too difficult to merely white out the text in the box and replace it with "Rubberman"? Or at the very least trim the shot so we're not sitting there awkwardly like some laugh track is missing?
Subbed:
Dubbed:
In the original, we see Luffy caught the knife Buggy shot at him with his teeth. He then says while laughing and breaking the blade with his teeth "I'm gonna kick your ass!" In the dub, they just reverse the scene of Luffy getting hit with the blade so it looks like the blade bounced off of him or he somehow shot it from his body, I dunno. Were they worried kids were going to try and catch knives with their mouths?
……Mmmmm……Errrr…..well….yeah, okay, I guess I can see some kids doing that. You get a pass there, 4Kids.
Subbed:
Dubbed:
And, I know they can't say 'ass', but Luffy saying "I'm gonna clobber you!" just seems lame. Reminds me of the swear edits in the Cartoon Network airing of Yu Yu Hakusho…
They add in a shot of Nami and Zoro and the pirates after Luffy shoots the knife back so he can have his dialogue.
The scene where Luffy just smiles in response to Nami asking how he's gonna escape is shortened.
Any subsequent shot of the blood stain on Zolo's shirt is edited away in the dub. So we're supposed to think he's wounded when there's no blood, rip or….wound….well, okay.
———————————–
This episode was a good introduction to Buggy. It definitely establishes that while he may be a clown with silly quirks, he is a bastard who will do the most terrible things as long as it benefits him. Luffy and Zolo got some great kick-ass moments and we end on a pretty good cliffhanger too.
Dub-wise, it's certainly not getting any better. I mean, we don't have hammer guns in this episode, and the knife-catching scene edit was understandable, though annoying due to loss of kickassery, but man, the whitewashing. That's another league for them.
Next episode, Luffy has to find some way to escape certain death.
---
If you enjoy my work and would like to help support my blog, please consider donating at my Ko-Fi page. Thank you! ♥