Plot: The next Space-Time Monster, Horurun, is spotted in 19th century France in the hands of a young Auguste Rodin, the famous artist.
——————————
Title Change: Doodling Horurun is changed to Artie.
Name Change: Horurun is changed to Artie.
While both versions start out in the Land of Time, Saban opted to put a further establishing shot of the Land of Time right before the establishing shot that the original used for some reason.
The delivery robots made a joke that pretty much couldn't be translated. They said "Aino ni takuhaibin" which translates to "A delivery for Aino." but one of the robots joked "Aino takuhaibin" which means "A delivery of love."
They remove a long behind shot of TP Lady grinding all up on the portrait and instead reverse a short sequence of Dyna and Mite shrugging in confusion about her.
An establishing shot of the lab is switched out for a different establishing shot of the lab/Bureau of Time and Space. The one they replaced it with is at sundown.
Oh my god…..Horurun is such a dorky little cutie pie. I love it too much.
They skip over the sequence of the kids traveling through space/time to get to 19th century Paris. In the dub, they use old recycled footage to insert their own sequence for this because it's really necessary for some reason.
Also, they slightly shift the shot of the kids exiting the portal from after the establishing shot of Paris to before it.
Even though it is awful, none of the original kids say the first monster drawing they see was based on a 'bad' drawing done by a kid like Pterry does.
Flint: "Whoa, a little self-control, Getalong!" Pot, kettle, black.
Horurun's name plate is removed.
Subbed:
Dubbed:
Oh wow….oh woooww…it's like they paid Brian Donovan to give as few shits as possible when he was supposed to be in a lot of pain after getting his shin kicked.
Dyna and Mite originally point out that, even if TP Lady had Horurun bring the painting of the masked man to life, it wouldn't be real. She responds that she doesn't care because of the mysterious matters of a young maiden's heart. In the dub, they don't discuss this.
While the discussion of TP Lady's age is kept, they don't have them be so brash as to talk about her needing wrinkle cream.
They insert a far shot of Auguste running away before we cut back to Genshi after he jumps on TP Lady and the others.
In the original, Sora realizes the guy on the roof was Kyoichiro and goes "Ah! He disappeared again!" when he falls off the roof. In the dub, Sarah must believe he was a weathervane or something because, when he falls, she says "Ah! This whole town's falling apart!" They're continuously make Sarah oblivious to this dude in the dub, and what's worse is that, in the original, Sora obviously knows Kyoichiro was trying to guide her, so she goes in the direction he pointed, but in the dub it makes her look like she thinks she's following the directions of a rickety weathervane….
A short reaction shot of Auguste is cut.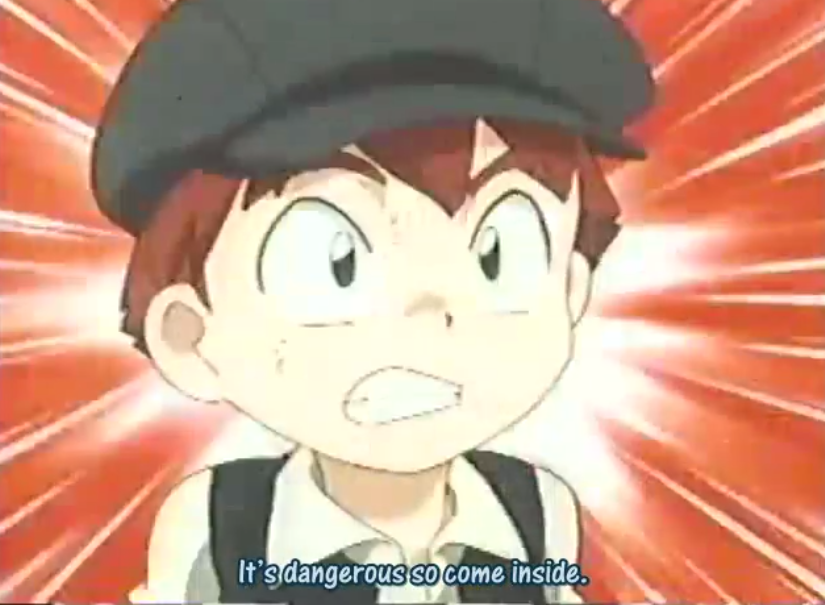 Excuse me. Are you telling me Auguste spent a full week with Horurun, constantly trying to make a drawing for his mom, and only now does Horurun use his 'turn anyone into an amazing artist' power on him? The day of his mother's birthday?
Urghh they seriously just let him walk up and stamp Horurun…..Come on, guys.
Name Change: Waruhorurun (Geez, the awkwardness of that name.) is changed to Artie-kon.
Name plate removed.
Subbed:
Dubbed:
The little boy trying to mess with Ridon was originally trying to use it as a toilet. Saban obviously didn't keep that little fact, changing it in dialogue to a rocking horse, but uh…..Saban….maybe be more careful with your frames. Why do I say that, you ask? This little boy clearly has no bottoms on. And I mean, he clearly has no bottoms on. Saban, you knew the original context of the scene. You had to have known he was trying to relieve himself….you had to have noticed….that, especially when the kid is flipped upside down and you can see it peeking out from under his shirt. Come on, Saban. Don't make me whip out 4KidsPraising!Twix. Their frame by frame censors were next level and you even didn't try. Shame.
They changed the sign for Sphin's game show from "Sphin's Riddle the World: Paris Edition" to "Riddle Griddle."
Subbed:
Dubbed:
Forgive the partial screenshot. It pans and never shows the entire sign full out.
Why is the punishment for getting the riddles wrong now a big collection of monsters? I thought, if you get three riddles wrong, you end up mind-controlled by it.
Sphin's first riddle is kept the same (The riddle is, "Sphin was taking some color photos at the zoo, but they all came out black and white. Why?")
Sora and Sarah both stupidly blurt out the correct answer to Sphin's riddle. (She said pandas, but I guessed zebras, which still would've been correct.)
A shot of Auguste appearing behind Waruhorurun is swapped from before the shot of him crying and opening his arms to afterward.
Waruhorurun doesn't talk in the original. He has really bad dialogue in the dub.
Oh so Sphin doesn't transform today…..What was his purpose being here, then?
I find it to be kinda depressing that, immediately after Auguste says he won't forget Horurun, Putera mind wipes everyone…
————————–
All in all, I really enjoyed this episode. I figured I would because I love art, even if it's silly doodles, so this story's right up my alley. Horurun is so adorable, and I love its power.
The story itself is very sweet. Rodin just wants to make a nice gift for his mother.
Believe it not, I really like that they showed him as a terrible artist. He is about ten years old here, and that's right when he picked up drawing. Rodin did struggle a lot in the art world before he solidified his masterful skills. He had poor eyesight that made it difficult for him to follow along in school, but he found some solace in drawing because he could get the paper up close to his face to see his progress.
Despite having such passion for art that he enrolled in an art school when he was 13, he was rejected by Ecole des Beaux-Arts, a very prestigious art school in France, three times and denied entry into art exhibitions quite frequently. In fact, he wouldn't really be recognized as a prominent artist until he was 35 when he became so inspired by the works of Michelangelo and Donatello on a trip to Italy that his work really started taking off.
This is not only (exaggerated, but) accurate to his story, but it is a great message for aspiring young artists. It doesn't matter if you start out poorly. With enough work, dedication and passion, you can become an amazing artist, too.
…..That being said….
The actual message of the episode is problematic.
Why? Because Rodin suddenly got insanely good art skills via Horurun's power and…..there's never any indication that it wore off or anything. The Horurun he drew was made while utilizing those abilities, and that same drawing was brought to life by Horurun as a sculpture for his mom. (Isn't that risky? Shouldn't they have taken that from him before they left for the present?) We never see him draw again after that, so we don't know if it was temporary or not.
Toki-G/Old Timer said that he was inspired to become a great artist because he still held Horurun/Artie in his heart somewhere, which is fine for this world's canon, but it's also implied that Rodin could become a great artist because of the power bestowed to him by Horurun/Artie, so it kinda ruins the whole narrative I had going there. Yeah, kids, if you start out bad at art, don't worry. A time traveling chicken might pop up and magically give you great artistic capability! Then you'll become one of the most famous artists in the world through your unearned art powers!
Finally, in spite of wondering just what purpose Sphin even had being in this episode (It showed up only to get knocked out and couldn't actually help because Sora's an idiot.) I did think the scene with that little riddle game show was the best out of the episode because it was so funny.
Next time, no new Space-Time Monsters, it seems. Instead, TP Lady has her sights set back on Love-Love!
---
If you enjoy my work and would like to help support my blog, please consider donating at my Ko-Fi page. Thank you! ♥