Plot: As Pooh and the rest of the gang from the Hundred Acre Wood prepare for Christmas, Roo's question about whether Santa will arrive prompts the others to tell the story of a Christmas they shared before Kanga and Roo arrived.
Then everything falls to pieces when Rabbit decides he's had enough of his crazy friends and decides to move away. As New Year's approaches, the others resolve to change themselves so Rabbit won't leave.
Breakdown: Happy New Year, everyone! May your 2021 be hopeful, positive, healthy and happy, and nothing like its bastard sibling, 2020.
Anyhoo, or anyPOOH! Hahahahahaha….please don't click away. To herald in the new year, I thought we'd discuss one of the few animated New Year's specials (and it is, trust me. It'll get there.) A Very Merry Pooh Year.
As I mentioned in my review of Pooh's Heffalump Halloween Movie, A Very Merry Pooh Year utilized the same lazy story stuffing technique they did, which is to only make half of a new movie and fill up the other half of the runtime with a decade-old holiday special from The New Adventures of Winnie the Pooh. Meaning that little tagline of "A Brand New Full-Length Adventure" can go suck a Times Square ball.
However, this time, DisneyToon was not involved. Instead, the animation was done by Wang Film Productions and Sunwoo Animation (Under Walt Disney Television Animation).
Now, while this practice is lazy and downright deceptive to the consumer, the main reason it was such a pall on Pooh's Heffalump Halloween Movie was because the story they came up with was damn near identical to the episode they shoehorned into it, so including that feature just highlighted how ridiculously lazy and near self-plagiarizing the new movie was.
Does A Very Merry Pooh Year have the same problem?
The special that is being featured in this 'movie' is Winnie the Pooh and Christmas Too. Christopher Robin helps Pooh and the other animals of the Hundred Acre-Wood write a letter to Santa. They throw it into the wind, as it's blowing north, and wait for it to arrive at the North Pole. Later, they realize that Pooh never asked for anything, so he and Piglet decide to get the letter back and fix it before letting it reach the North Pole, which doesn't make any sense.
First of all, Pooh wants honey. Christopher Robin knows this, Pooh mentioned it about seven times when the others were making their wishes, there's no way Christopher Robin didn't write down that Pooh wanted a pot of honey for Christmas.
Second, why do they need to get the letter back? Why couldn't they just send a new letter specifically for Pooh?
The amended letter with Pooh's wishes as well as Rabbit, Tigger and Eeyore's new better, more extravagant wishes, because everyone started going overboard, gets sent off in the wind, but the letter returns because the wind changed directions. Later, Pooh and Piglet find the letter and panic because there's no time to get a new letter to Santa. In an effort to make Christmas happen, Pooh dresses up like Santa, Piglet dresses as a reindeer and they make the gifts their friends asked for. However, the gifts are incredibly shoddy and everyone's upset about them.
They eventually find out what Pooh and Piglet have been doing, and they figure out what Pooh did wrong – he waited until the weathervane indicated S for Santa when he should have waited for N for North, so it could get to the North Pole…..Which is not what happened. The weathervane was pointed west….I think. It's hard to tell with their setup. And Pooh just said the letter would know which way to go.
They want to send the letter again, but the winds have died down. The only way to get the letter to the North Pole now is if one of them hand delivers it. Pooh immediately volunteers.
Piglet: "You? But the North Pole is so very far. What if you can't get back in time for Christmas?"
Pooh: "It will be worth having no Christmas, Piglet, if I can bring Christmas to all of you."
Gotta be honest, that was one of the sweetest and most pure Christmas sentiments I've ever heard in a Christmas special. I literally went "Awwwwwww" out loud when he said that. What a sweetheart.
Pooh heads out in the now really windy snowstorm and quickly loses the letter, so he….goes home?
….Uh….Pooh? You remember what everyone wanted….Just…tell him? Santa doesn't need the requests to be written out. How do you think mall Santas work?
Meanwhile, back at home, Piglet laments–…………Is that a fire…..they forgot to animate?
There are no flames. It's like they're just glowing logs……What happened here?…What is this?
Uh anyway, Piglet laments the fact that Christmas just isn't Christmas without Pooh Bear around, even if they'll eventually get good presents. Tigger, Rabbit and Eeyore are still excited, but they quickly agree with Piglet that it's just not the same without Pooh Bear.
Just then, Pooh returns, delivering the bad news that he couldn't get the letter to Santa, but they don't care – they're just glad Pooh Bear is back to spend Christmas with them.
Suddenly, Christopher Robin arrives on the new sled he wanted, and he's bearing gifts that were left from 'Santa.' A flyswatter for Rabbit to get rid of the bugs who keep eating his carrots, a snowshoe for Tigger's tail so he can bounce in the snow, an umbrella for Eeyore to keep snow from plopping down on him from the trees (though….he's still homeless. His second and better gift suggestion was a new house – he lost his after the letter was sent…..The umbrella was actually meant to keep the snow off of his house……) a……thing for Piglet (He didn't know what he wanted, so he just said anything's fine, but that's….I don't even know what that is.
He's happy with it, so I guess that's all that matters, but I'm so confused) and, of course, a pot of honey for Pooh.
However, Pooh doesn't think he deserves the honey since he messed up Christmas so much. Christopher Robin tries to convince him that that's not true, and Pooh starts to agree as he stands on the honey pot and says that it makes him just the right height to give Christopher Robin a big hug. Awwwwwwwwww!
The end.
Despite some logic issues, this special is incredibly wholesome, sweet and has a great message. The holidays really don't mean as much when the people you love aren't there. I know that's more of a bittersweet moral in this year of all years, but we live in an era where we can practically have anyone we want with us without actually being there in person. Is it the same? No. But even just talking to them over the phone or communicating through video chat creates a connection that is invaluable, especially in rough times.
On its own, it's a great Christmas special that I think anyone would enjoy.
Now, onto the actual movie portion of which there's, again, about a 35 minutes of new material.
Kanga and Roo join the others for the holidays this year, and they decide to regale Roo about the events of a previous Christmas, which is where the old Christmas special comes in.
When we cut back to the movie, Pooh sets out all of the gifts for….Christmas…..that…..everyone else made/got each other……which…..I don't understand. This is just like the opposite situation of the Family Guy Christmas specials. Whereas they started out with everyone giving each other gifts and then in later seasons said Santa brought them all, Winnie the Pooh is saying that Santa delivered them before, but now they give each other gifts….Huh? And Roo even starts the special by asking if Santa will come, they tell him a story about Santa getting the gifts to them even when they thought he couldn't, but now he didn't get anything from Santa and got a gift from Tigger, which he acknowledges…..What is happening?
…………….Also, Tigger calls Rabbit 'Rah rah' a couple times and I got really giddy for some reason. That's just an adorable nickname. Was that something he normally called him? I don't remember.
Sadly, Pooh loses Piglet's gift. He searches for days, until New Year's Eve (See? We got there.) However, he's searched for so long, he's forgotten what he's looking for.
Christopher Robin arrives with a box full of decorations for a New Year's party. He gives the box to Pooh so he can make the party, and Christopher Robin just….disappears for some reason. Not gonna help, dude? Just proclaim you're going to have a party and hand off the planning to someone else? Nice.
As Pooh, Piglet and Rabbit convene, Tigger drops by.
Tigger: "Wanna hear the good news? Snow does not keep Tiggers from bouncin'. Not one bitty bit!"
…………………….
……………….
…………….
……….
……..
…..
"A snowshoe for Tigger's tail so he can bounce in the snow."
"so he can bounce in the snow."
"bounce in the snow."
"It was directly stated and shown several times in the special that THEY INCLUDED IN THIS MOVIE that Tigger can't bounce in the snow, that's why he needed the snowshoe, is what I'm getting at here."
After nearly destroying Rabbit's house and his prized carrot, Rabbit snaps and declares that he's moving away so he won't have to put up with them anymore. He's tired of Pooh's obsession with honey, Piglet's paranoia, Eeyore's gloominess and Tigger's bouncing. Having learned of New Year's resolutions from Christopher Robin, Pooh decides that they should try to fix these aspects of themselves in order to get Rabbit to stay. They all agree to make their New Year's resolutions to never eat honey, never be scared, always be cheerful and never bounce again.
Tigger ties his tail to a rock to prevent him from bouncing, which, considering he's literally tying his tail up, actually looks really painful. Piglet asks Tigger how it seems like he's never afraid. Tigger says he was always too busy bouncing to be afraid. Piglet starts bouncing all over the place, and he finds that it works. He's not scared as long as he keeps bouncing.
Cool.
But then…..
Tigger, using Tigger logic, thinks that, if bouncing keeps away fear and he can no longer bounce, then he must be damned to becoming an anxiety-ridden mess who is afraid of literally everything, which quickly ends up happening because self-fulfilling prophecies. This is bad enough, but the buildup to this change is actually legit creepy. The screen starts going black all around him, even casting a shadow on Tigger's edges, there are some creepy noises included, and we even zoom in on Tigger's eyes so much that it affected the image quality.
I think we can ascertain what will happen with Pooh and Eeyore from here, but even that's presented oddly.
We see Pooh rummaging around a tree to try and check on some honey without eating it, and then Eeyore walks by standing on his hind legs, in a red shirt, humming to himself and gobbling down honey. I love Eeyore….it is very uncomfortable to see him acting like this. Please stop.
He doesn't even explain how and why he started doing this. He doesn't say he knew Pooh was happy all the time so he decided to start mimicking him. He just suddenly appears while acting this way. From what he says, it's just like he randomly ate some honey and started getting a funny feeling, which…I guess changed his personality instantly. And can I ask what the shirt and the walking on hind legs thing is about? He's just now getting that there was a connection between him being happier and him eating honey, meaning he wasn't at all trying to emulate Pooh Bear. He just decided to start doing those things…….Or….is the implication that you start becoming a Pooh clone when eat some honey? You can just be happy and eat honey. You don't need to become a new Pooh.
Oh also Pooh's got depression now.
Then we get this frightening-ass image.
Eeyore: "Why…I think I'm glad. SeeeeeeEEEEEEEEEEEEEEEE?"
Hehe, frightening-ass image…
Hehe….he's a donkey.
Hehe, seriously, someone stop this waking nightmare. I cannot take much more of this. It's like they're intentionally making him ridiculously creepy.
They all arrive at Rabbit's place to show him how much they've changed, but since they've literally just changed into each other, including the same speech patterns and mannerisms, it's just as bad if not worse than before, so Rabbit immediately storms out.
One thing leads to another, and Rabbit ends up caught in a tree with a beehive. Piglet becomes frightened for him, making him break his resolution. Tigger unties his tail so he can bounce up to save Rabbit and his carrot, making him break his resolution. The beehive falls into Pooh's hands, which prompts him to eat the honey inside, breaking his resolution. Everyone else breaking their resolutions and being upset at it makes Eeyore so upset he forgets to be happy. This is going to sound terrible, but thank god for that.
Realizing they failed, they leave Rabbit to move out of the Hundred Acre Wood.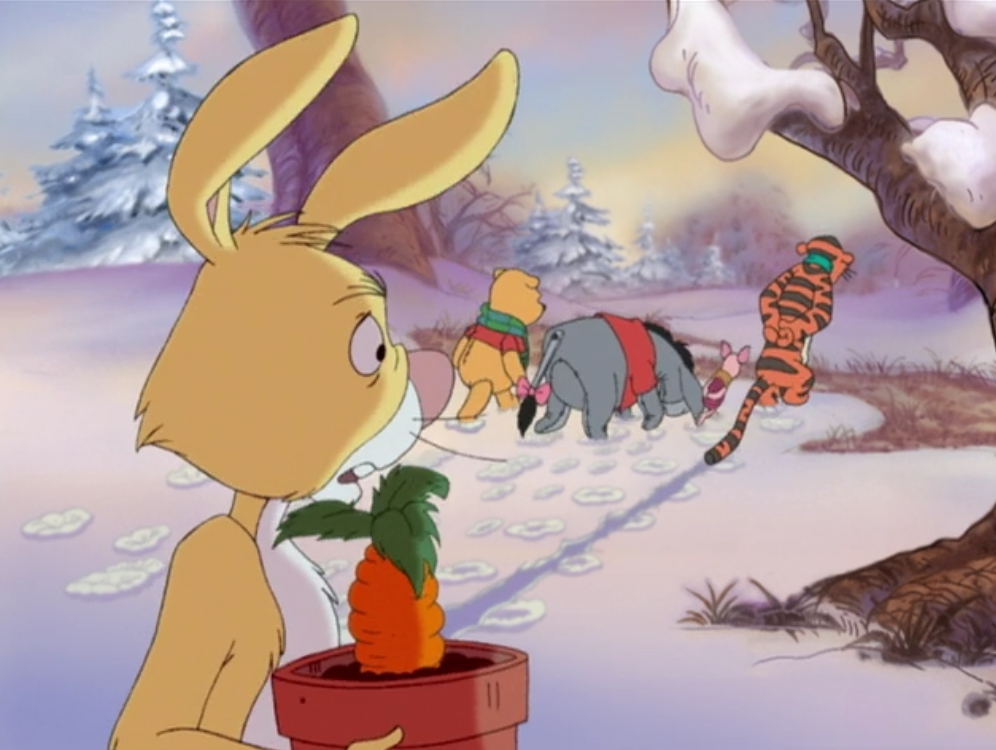 Christopher Robin arrives for the party, but everyone is saddened at the loss of their friend. Rabbit, however, says he can't think of leaving friends so loyal as them, especially when they cared so much about him that they tried to change themselves to make him happy. He loves his friends just the way they are.
Piglet: "Oh Rabbit! I was afraid I'd never get to be scared again!"……..Okay, back up.
The moral of all of this is to be yourself and to appreciate your friends for being themselves because they help you be who you really are, which is fine and dandy.
However, in regards to the New Year's resolution stuff…..what kind of message are they trying to convey there? Because it really comes off like resolutions are bad, at least in regards to ones where you try to stop doing something. Like, yeah, these traits help the characters all be who they are, but being overly afraid is bad, and it probably negatively affects Piglet's quality of life. What sane person says "I was afraid I'd never get to be scared again!"? I get that the wording is a joke, but that's still a concerning thing to say.
Keep in mind, the only ones who experienced positive outcomes from taking on the traits of their friends were Piglet and Eeyore. Piglet became brave and had a lot of fun bouncing, and Eeyore became happier…..and creepy. Tigger, however, became a nervous wreck, and Pooh lost all enjoyment in everything. When their resolutions broke, Pooh was happy he got to eat honey, and Tigger was happy he was bouncing again, but Piglet can't have been happy that he was afraid, and Eeyore wasn't….happy….he was….sad? Maybe they were at least relieved that they didn't have to pretend to be something they weren't, but these factors still present issues.
A better lesson would be to not have such extreme New Year's resolutions. Unless you really have serious, harmful problems, your New Year's resolutions shouldn't be to completely overhaul your personality. Just try to improve yourself a little.
Tigger's resolution could have been to bounce as much as he wanted but to try and control himself indoors or be more aware of his surroundings while bouncing.
Pooh could try to learn more self-control around food, especially honey.
Rabbit could learn to unwind and not be so uptight.
And Piglet and Eeyore could seek therapy.
They all head to Rabbit's house and count down to the new year. Pooh suddenly remembers where he hid Piglet's gift and rushes home to get it. It's a lovely little music box that plays the New Year's…anthem song…..what's that song called? It plays so often on New Year's but I never know what it's called.
*Google*
Auld Lang Syne!? Chalk that up as something I never would have guessed ever. They even sing the proper lyrics at the end. I feel like I've been living in a void my whole life.
Pooh makes his own lyrics to the song and sings them to Piglet, and it's really cute and sweet. Everyone sings as the movie zooms out and concludes.
—————————————
This movie didn't have the problem that Pooh's Heffalump Halloween Movie had in that it wasn't basically the same story as the included special, but I still have to ding it a little because, really, what a weird New Year's special. It honestly makes it look like New Year's resolutions aren't a good thing. Granted, most people don't fulfill their New Year's resolutions, but they're typically never a bad thing to set. Even when Pooh's initially learning about resolutions by Christopher Robin, it gives off a vibe that it's about changing yourself and that changing yourself isn't something you should do.
But changing yourself, if your current behaviors cause problems or negative repercussions, whether for others, yourself or both, can be quite good. At least take some self-reflection into consideration. You don't have to throw away your personality and construct an entirely new persona or adopt someone else's, you just have to improve as a person.
It's a little bit difficult to say that the message is bad, though, because, yes, being yourself and loving yourself and being your best self around your friends is great. That's the way it should be. But you should always strive to be better. I dunno. I guess it's up to your own interpretation on how good the actual message is in contrast to the bad light they put the resolution message in.
Overall, though, while it is still lazy and deceptive to include a completely separate special in this movie and claim it's entirely a "brand-new full-length movie," this is a mostly fun, sweet, heartwarming and festive holiday movie. Plus, it is nice to have a Christmas and New Year's special rolled into one to cap off the year. The songs are very short, and none of them are very memorable, but they're fine for what they are. There are some logic issues peppered throughout, but it's Winnie the Pooh – I can mostly overlook them. The best section is definitely Winnie the Pooh and Christmas Too, but the New Year's section is still perfectly enjoyable…..barring creepy Pooh!Eeyore. That is going to haunt me for a long time.
And with that we close out A Very Animated Holiday Special for 2020. I'm sorry I wasn't able to fill the entire 31 days, but I hope you all enjoyed what I came out with this year. I certainly had a lot of fun with it. Found some awesome entries, some weirdos and some ech, but it was all around fun. Now it's back to our regularly scheduled shenanigans.
Happy New Year!
---
If you enjoy my work and would like to help support my blog, please consider donating at my Ko-Fi page. Thank you! ♥